Contact Sandmine
For more product information and prices,click here to ask
workingp rinciple
GLMF ultrafine vertical roller mill is composed of mainframe, roller assembly, grinding plate, multi-head classifier, pressurizing device, motor, reducer, lubrication device and etc.
The main motor drives the grinding plate to rotate through the reducer, meanwhile, the air flow gets into the mill through air inlet. The materials come out of the screw feeder and fall on the center of the grinding plant, and evenly moved outwards due to centrifugal force. The materials are ground by grinding rollers when passing through the grinding area on the grinding plate, and large size materials will be directly crushed while the small particles form a material bed by extrusion for further inter granular crushing.
The grinded materials keep moving to the edge of the mill until they are taken away by the air current at the vane and collected by the powder collector, the coarse particles in the air flow will drop back to the grinding plate for further grinding when passing through the upper separator under the action of the rotor blade,
However, the iron blocks and other wastes mixed in the materials will move along with the materials towards the edge of the grinding plate due to their own weight and fall into the lower chamber and then be discharged out of the slag discharge opening by the scraping plate at the bottom of the mill tray.
grinding millstrucyure drawing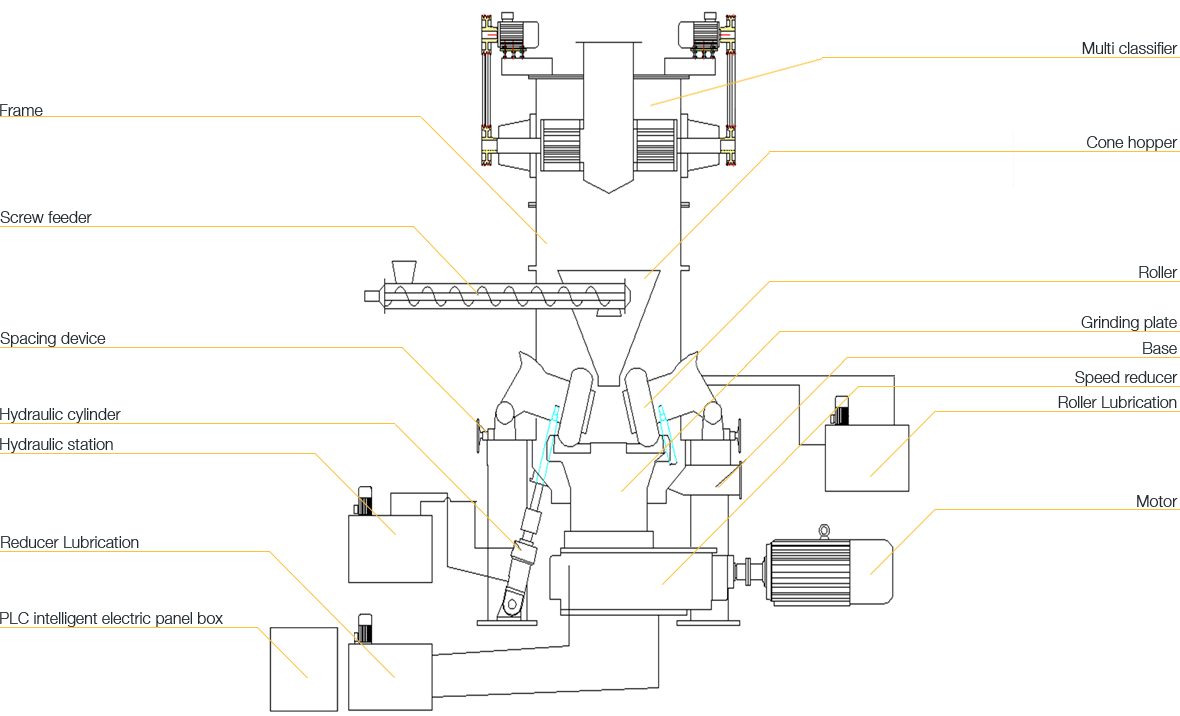 technical parameter
| | | | |
| --- | --- | --- | --- |
| Model | GLMF36 | GLMF45 | GLMF67 |
| Grinding Plate Diameter (mm) | 900 | 1100 | 1700 |
| Feeding Size (mm) | 10 | 10 | 10 |
| Output Capacity(t/h) | 1-10 | 3-13 | 4-25 |
| Raw Material Water Content(%) | 6 | 6 | 6 |
| Output Size(mm) | 0.005-0.044 | 0.005-0.044 | 0.005-0.044 |
| Motor Power (kW) | 132 | 220 | 400 |
Note: The production is based on open-circuit condition when bulk density of feeding is 1.6t/ m3. It is also relative to physics character,type of feeding, input size and composition etc. Sandmine machinery reserves all rights to change data without notice.
You can reach us by filling in the form below, any requests, suggestions and criticisms.