Contact Sandmine
For more product information and prices,click here to ask
Stationary construction waste crushing production line
Stationary construction waste crushing production line consists of crusher, screen, hopper, feeder, conveyor, ventilation and dust removal equipment and control system, etc. because the raw material conditions and product requirement are different, equipment combination will be varied to satisfy the requirements of different processes and different capacity.

Applicable material:
Construction waste

Application:
It is widely used in recycling urban construction waste and constructing road and bridge.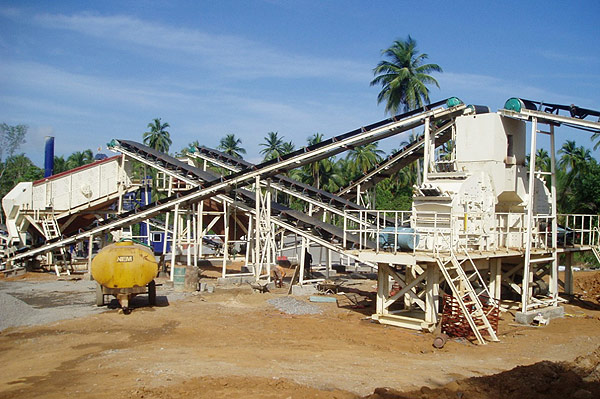 Equipments:
Vibrating feeder, Jaw crusher, Impact crusher, Air sifter, Magnetic separator.

Process of stationary construction waste crushing production line:
Firstly, the construction waste will be sorted, the sorted breakable material will be conveyed to vibrating screen, and will be divided into two parts by primary screening equipment, oversize will be conveyed to impact crusher for further crushing, iron will be removed from crushed material by magnetic separator. Crushed material will be sorted for inorganic combined aggregate of different purpose and different size, for instance, in Germany, in stationary construction waste recycling treatment plant, the recycled construction waste can be processed into inorganic combined aggregate with size of 0~32mm, 0~45mm and 0~65mm, and also the graded aggregate for special purposes can be provided, for example the graded aggregate with size of O~8mm, 8~16mm and 16~32mm.

Features of stationary construction waste crushing production line:
1. Complete production system is equipped for comprehensive management, it provides integrated control conditions for environmental protection, and effectively controls the production cost.
2. One-time installation and commissioning, it not only fulfills continuous production, but also saves the adjustment time for site moving.
3. Adequate spare parts can be provided to meet the need for continuous production.

Recycled product of construction waste:
Through crushing and screening construction waste, aggregate can be produced for replacing natural sand. Combined with cement produced by the enterprise itself, part of the aggregate can be used as deep process raw material for producing sand syrup, cement admixture, wall panel and component parts, etc, the rest part of aggregate can be used as commercial aggregate, which will be sold to concrete mixing plant, mixed mortar station and road foundation backfilling, etc. the powder and soil out of air sifting can be provided for producing bricks in construction material factory ,and also can be used as garden soil.
You can reach us by filling in the form below, any requests, suggestions and criticisms.