Contact Sandmine
For more product information and prices,click here to ask
Dry sand making production line (manufactured sand)
Manufactured sand is also known as artificial sand with particle size finer than 5mm, it is produced by rock exploitation, mechanical crushing and screening. Manufactured sand production line can be divided into wet sand making process and dry sand making process.
Applicable material:
Hard rock such as granite, diorite, basalt, conglomerate, sandstone, limestone, argillaceous limestone, dolomite, gneiss, quartzite, marble, slate, etc Soft rock such as tuff, nagelfluh, agrillaceous shale, argillaceous conglomerate, marl, mudstone, etc.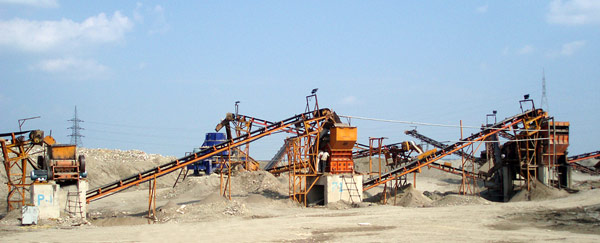 Application:
It is suitable for applications in hydropower, highway, urban construction; the particle size can be combined and graded according to the different requirements of clients.

Equipments:
Vibrating feeder, vertical shaft impact crusher, vibrating screen, powder separator
Basic process introduction of sand making production line
The production line is introduced by using the raw material less than 40mm as an example.
the aggregate with size of 0-40mm will be conveyed by electromagnetic feeder and belt conveyor to vertical shaft impact crusher for crushing, the crushed material will be conveyed to a two-deck screen for screening, the material with size of larger than 5mm will be conveyed back to impact crusher for crushing to achieve a closed circuit. According to the discharging requirement, part of material with size of 3-5mm will be discharged as final product; part of material with size of 3-5mm will be conveyed back to impact crusher for crushing again. The material with size of less than 3mm will be conveyed to coarse and fine powder separator to sort the stone powder with size of 0-0.075mm out. Material with size of 0.075-3mm and 3-5mm can be piled as final products. Impulse dust catcher can be selected as an option according to the requirements of environmental protection.

Advantages of dry sand making process:
1.Fineness module and grading zone adjustment: frequency control system is equipped for sand maker and sand and powder separator, according to the characteristic of raw material, production mode can be adjusted to achieve a quick and easy adjustment of fineness module and stone powder content, it is the most advanced production process in China.
2.Adjustment of stone powder content (sand equivalent): the stone powder content will be adjusted to the request range through sand stone powder separator.
3.Environment friendly: specific dust collector is equipped, less dust, running noise level less than 90dB.
4.Small occupation area, compact production line layout, high automation.

Features of Sanme dry sand making process:
1.The design of process is scientific and reasonable, which effectively ensure the quality and output of manufactured sand.
2.It is capable of crushing middle and high as well as extra high hardness material.
3.High automation minimize the cost of human resource.
4.Good sand grading, adjustable fineness module.
5.Low running noise level, less dust pollution.
You can reach us by filling in the form below, any requests, suggestions and criticisms.